Founder Chat with Melissa Berton; The Power of People
This weeks guest, Melissa Berton gave us a look into her journey from nonprofit founder to her Oscar winning documentary and beyond. If the name sounds familiar, that because it probably is! Melissa Berton is the school teacher, turned Oscar winning producer of the "Period. End of Sentence" and nominee of Elle's 2019 Women of Influence.  If you haven't heard of her, you may have seen the award winning documentary Period.End Of Sentence. (featured on Netflix), which has had a major impact in the way we talk about periods and providing women with sanitary products. She is also the proud founder of the The Pad Project, an organization that aims to end period stigma and empower women worldwide.
With so much acclaim, it's easy to assume that an organization has certainly accomplished it's goals and did so easily. But Melissa is here to show us that even in the midst of the spotlight, a founder is still faced with the same challenges and decisions as the rest of us.
I believe the largest takeaway from our conversation can be summed up into one simple sentiment
"Alone We Can Do So Little, Together We Can Do So Much".
A conversation that started out on a high school field trip to the United Nations, made it's way into the classroom, into topics at home and, into a documentary that has propelled the nonprofit into so many areas of success. But how?
It's honestly the power of people. Critical acclaim is one thing but when you place that next to the lofty goals of any nonprofit, it's the movement inspired in others that really matters. For Melissa's organization, it was the outpouring of donations and support from inspired and moved viewers that gave her organization the ability to move their programs forward after their documentary.
But even before the success of their documentary, it was the people that came together in the classroom and in their homes that made it possible to get so far. Melissa shared that a number of helpful supporters came from her network. Meaning, she shared her goals with her circle, who then shared the story with others until eventually it got to people who wanted to be involved. It's a topic we talk about often because the reality is, you never know who may be looking to support a project like yours. Maybe it's not your closest friend, but it might be their neighbor or coworker!
"If you build it, they will come" - Field Of Dreams
And as for the future, I think Melissa has it right when she references the growth of her organization with a simple and true reference to Field of Dreams and it's iconic quote "If you build it, they will come". Spreading the message about your organization's mission whether through a platform like an award that's been won or by some simple marketing, will undoubtably attract the people you're looking to grow with. Not just within your community, but if you want, the world.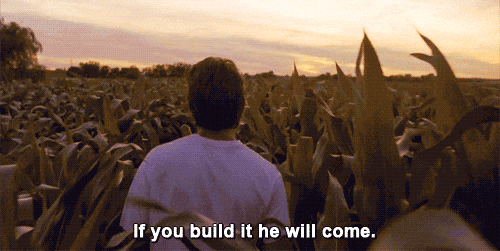 You can hear all about how The Pad Project has grown and how Melissa is learning and growing along with it on Episode 6 of Founder Files. To learn more about The Pad Project, please see the links below!
Web: https://thepadproject.org/
Instagram: https://www.instagram.com/thepadproject/?hl=en
Facebook: https://www.facebook.com/ThePadProjecct/
Documentary: https://www.netflix.com/title/81074663
#LeadershipDevelopment #podcast #growth Fundraising #Board #Donor #Management #Plan #Programs